Latin America Chapter
Established April 2013
Our Vision
The Latin America Chapter addresses the needs of promoting research, facilitate south-south and south-north collaboration regarding pharmacoepidemiology between investigators, stakeholders, medical providers, and patients. The Chapter provides a forum for the exchange of ideas, practices, and joint projects including pharmacovigilance, drug utilization research, and therapeutic risk management.
Our Mission
Our mission is to educate, network, and create a cohesive membership throughout the Latin American countries. The Chapter hosts a variety of web seminars and live conferences dealing with regional and international issues in pharmacoepidemiology. We also hold in-person and telephonic general membership and committee meetings, offer technical support in procedural and practice matters, while addressing issues which are important to the Chapter's members. The Chapter also raises awareness about the practical uses of pharmacoepidemiology research at both governmental and non-governmental levels. Ultimately, the chapter is interested in expanding the "critical mass" of people trained in pharmacoepidemiology at all levels in the region, and expand the participation of Latin America projects in the annual ISPE meeting. And of great importance, the Chapter serves as a resource for its members to know, mentor, and network with one another, whether far or near.
Objectives
To promote the field of pharmacoepidemiology as an applied science at the Latin America context.
To serve as a forum to exchange ideas, practices, and joint projects related to pharmacoepidemiology across the Latin America region.
To provide educational opportunities for professionals and organizations in pharmacoepidemiology in Latin America.
To promote best practices in research and teaching in the pharmacoepidemiology field.
Meeting Schedule
The Chapter meets several times per year by teleconference and by face-to-face meeting in at ICPE.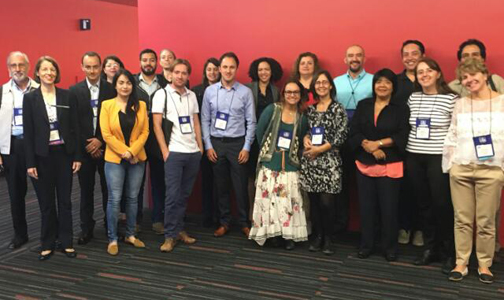 Supporting Documents
Committee Members