In Memoriam: Judith K. Jones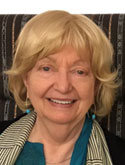 Judith K. Jones, MD, PhD, FISPE, passed away on August 4, 2020. She was battling lung cancer. Judith was ISPE's president in 1992, received Honorary Lifetime Fellowship in 2017, and contributed many years of volunteer service to ISPE, most recently on our Finance Committee, helping to steer the growth of ISPE's financial reserves. You can make a donation in memory of Judith below.
Donate Now To donate as a guest (no login or account creation) click here.