ISPE Strategic Plan 2024
ISPE has launched its first five-year strategic plan with ambitious goals to foster science in pharmacoepidemiology and improve public health, built on our mission statement: The International Society for Pharmacoepidemiology (ISPE) is an international organization dedicated to advancing the health of the public by providing a global forum for the open exchange of scientific information and for the development of policy, education, and advocacy for the field of pharmacoepidemiology, including such areas as pharmacovigilance, drug utilization research, comparative effectiveness research, and therapeutic risk management.
ISPE's plans for 2024 center on these broad objectives.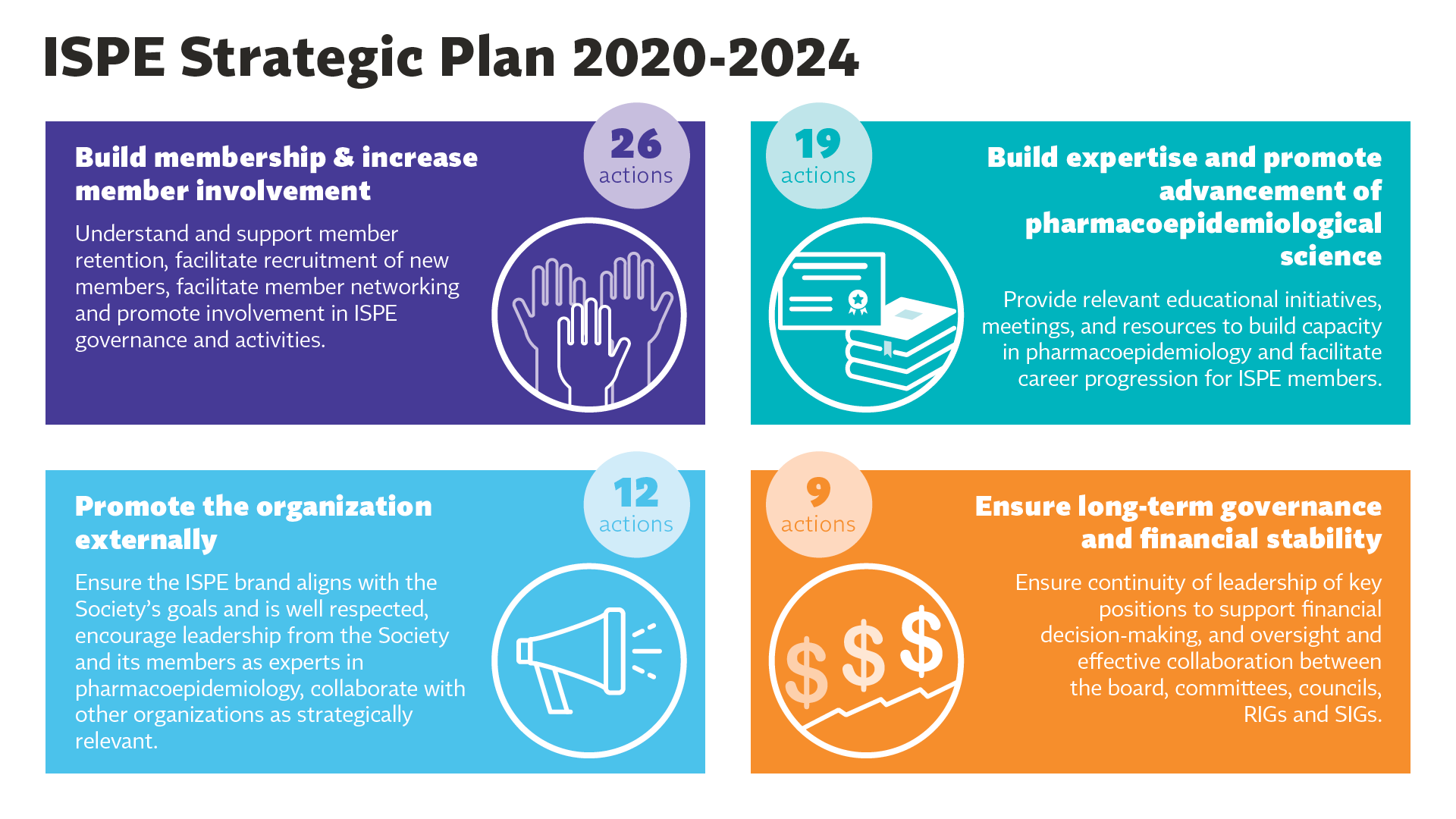 By understanding and supporting member retention, facilitating recruitment of new members, facilitating member networking and promoting involvement in ISPE governance and activities.
Foster growth strategically

in countries outside of North America and Europe
through smaller meetings that engage local pharmacoepidemiologists
through concerted outreach to new generations of pharmacoepidemiologists,
through strategic collaboration with other societies

Branding: strengthen the message of ISPE's reputation as friendly, collaborative society with strong scientific rigor, innovation and significant public health input
Enhance membership database maintenance and analysis to inform recruitment and deliver audience-relevant messages
Review and enhance processes to engage members and monitor trends towards being top-heavy or a "clique" society

Ensure transparent communication between leadership and members
Grow and improve advertisement of volunteer positions for member engagement
Obtain regular member feedback on ISPE priorities, strengths and weaknesses
Increase communication to members through website and social media and facilitate member networking
By providing relevant educational initiatives, meetings, and resources to build capacity in pharmacoepidemiology and facilitate career progression for ISPE members
Organize scientific meetings of the highest attainable standards
Grow opportunities for collaboration outside of the annual meetings

Enhance portfolio of webinars
Enhance website to facilitate scientific exchange

Develop resources that support researchers in pharmacoepidemiology world-wide

Provide standards for best practices in pharmacoepidemiology for application in both research and training
Promote and share new methods and technology to support scientific advancements

Advocate for support of ISPE researchers including data privacy rules that don't impede observational research
Establish lead role among "big data" sciences by providing expertise and guarding scientific rigor, especially principles of causal inference
Grow ISPE's role in use of patient-generated data (e.g., wearables)
By ensuring the ISPE brand aligns with the Society's goals and is well respected, by encouraging leadership from the Society and its members as experts in pharmacoepidemiology, by collaborating with other organizations as strategically relevant
By ensuring continuity of leadership of key positions to support financial decision-making and oversight and effective collaboration between the board, committees, councils and SIGs.
Create and implement long-term strategic plans that support ISPE's growth and influence and that guide financial investments

Enhance the engagement of board, committees, councils and SIG in implementing the strategic plan
Gather member input on ISPE strategic plans

Maintain continuity in leadership while optimizing opportunities for member involvement and growth
Secure adequate funds to support operations and initiatives
For details on 60+ SMART goals that ISPE will implement over the next years, ISPE members may review the detailed project plan here.